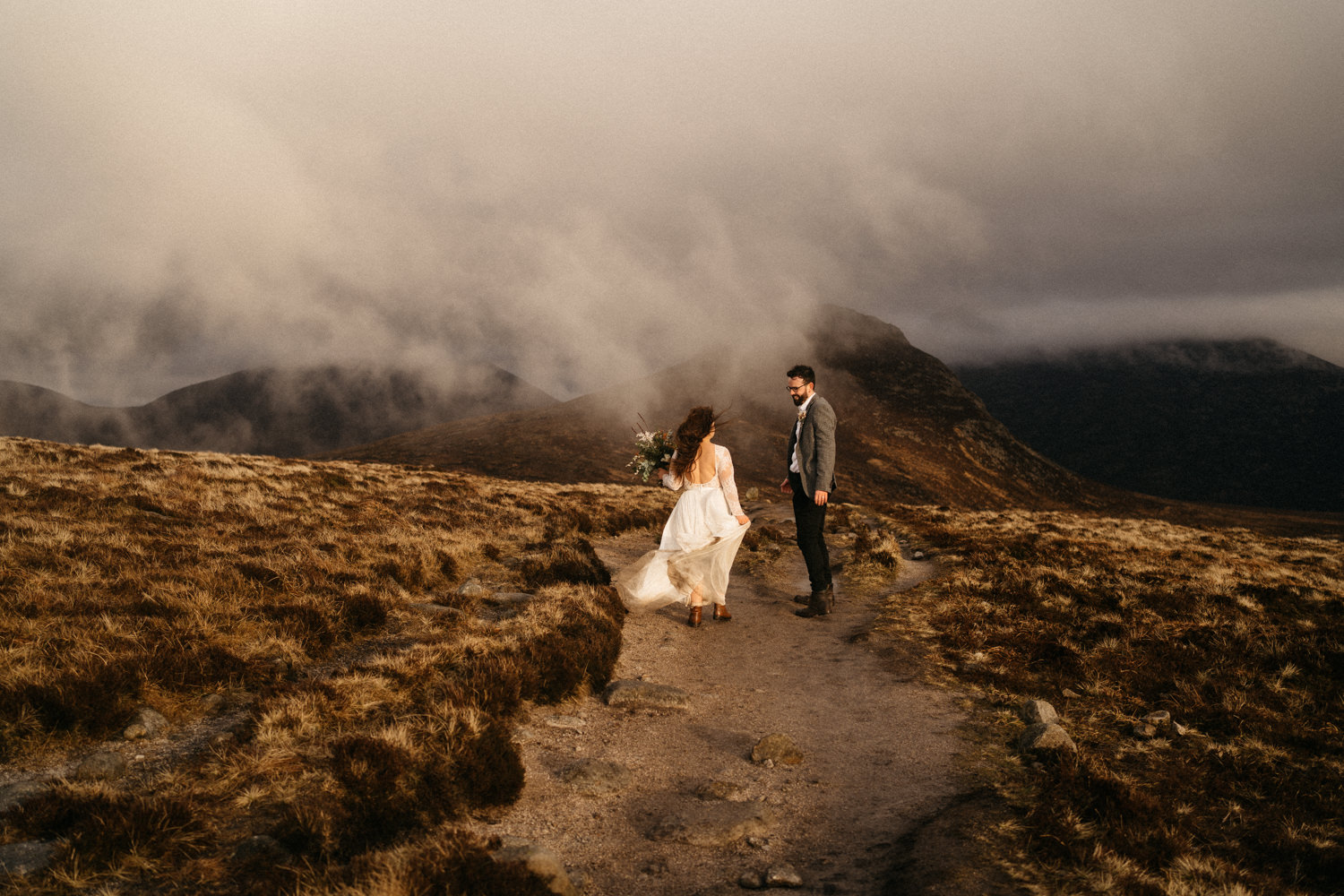 Mourne Mountains Wedding Photography
M
Mourne Mountains Wedding Photography adventure. Following up on our recent blog we have seen a shift to alternative style weddings and locations due to the current and unfortunate restrictions. Micro weddings, Air bnb and elopement style weddings to name a few. Which brings us on to our latest wedding adventure and Mourne Mountains Wedding photography. When we got contacted by this couple, their original plan was to marry and have a City wedding in Belfast. As optimistic as they were they were also realistic that this might not be able to take place under government guidelines. The couple were adamant they wanted to get married this year. They also had previously rescheduled and they were not going to reschedule again, this too and an unfortunate trend couples are getting tired of doing this and just want to have their day.
Meeting Lisa and Allen
On our initial consultation, which is great to break the ice and find out more about each other and see if we are the right fit for you as a couple. Ana and I love this, getting to know our couples, their values and what's really important to them on their wedding day. So we can give everyone of our couples a very personal, and intimate approach to the day. For Lisa and Allen they really loved our images. They just wanted to feel relaxed and comfortable on their day nothing too posey, which ties into our style.
Ana & I love letting couples be themselves and melt into the background and capture those candid moments as they naturally unfold (but don't worry we will give you some help to make this happen). We also discussed a possible Plan B and what we can do if we did need to reschedule. We always try and be as flexible as possible for all our couples.
Wedding Photographers Mourne Mountains
The City Wedding was not be and we had to start putting our Plan B in place. If I'm being honest, I was super excited. As I thought what we had previously discussed on our initial consultation would be so much more beautiful and intimate. The images and story would be so much more authentic.
We know the Mourne Mountains so well. I have shot their so many times in Couple Sessions and also personal trips and even overnight stays. It is definitely one of my favourite locations in Northern Ireland. The scenery is world class. After a few possible locations discussed and considered, Lisa and Allen had made their mind up.
The First ever legal wedding in The Mournes
This would have not been my first choice purely on the difficulty to get to the location. There is parts of it with no path and you have to navigate and climb through a bog which can be tricky even with great weather, however, this is by far one of my favourite locations in the Mourne Mountains.
We originally planned to have a tent set up for our couple enabling them to change into their wedding attire and freshen up. Anyone that knows us would have known how excited we were about this. However, Lisa and Allen opted to hike straight up (troopers). We were so happy to work with such a fun and enthusiastic adventurous couple. When Lisa and Allen did a dry run prior to the day they seen a prominent rock feature. Lisa said "That was made for my wedding" and it made for an excellent choice to have the first ever legal wedding in the Mourne Mountains.
Mourne Mountains Wedding Photographers
When we initially planned for this location it was just to be Lisa and Allen and essential wedding personal. At the last minute there was to be 14 guests.. I didn't think they knew what they were in for. Even the celebrant thought it was only a 15 minute hike. It was nearly an hour over some tough terrain. On the hike up it began to rain. The weather wasn't ideal, but we had a tough bride and bridal party that wasn't going to stop. We finally reached the top to this iconic location over looking Lough Shannagh. Just as we arrived a rainbow appeared. It was fate and Lisa was right.
The Three Bears Northern Ireland Wedding Photographers
Lisa and Allen have been a dream to work with. If we get one more couple like this this year we would be happy. We are so glad you got to have your wedding. Thank you so much for choosing the Three Bears Photography for your Mourne Mountains Wedding Photography. Check out a few images below.
Are you an adventurous couple that need a Mourne Mountains Wedding Photographer and need help to plan a wedding like this. We would love to hear from you – contact us here.