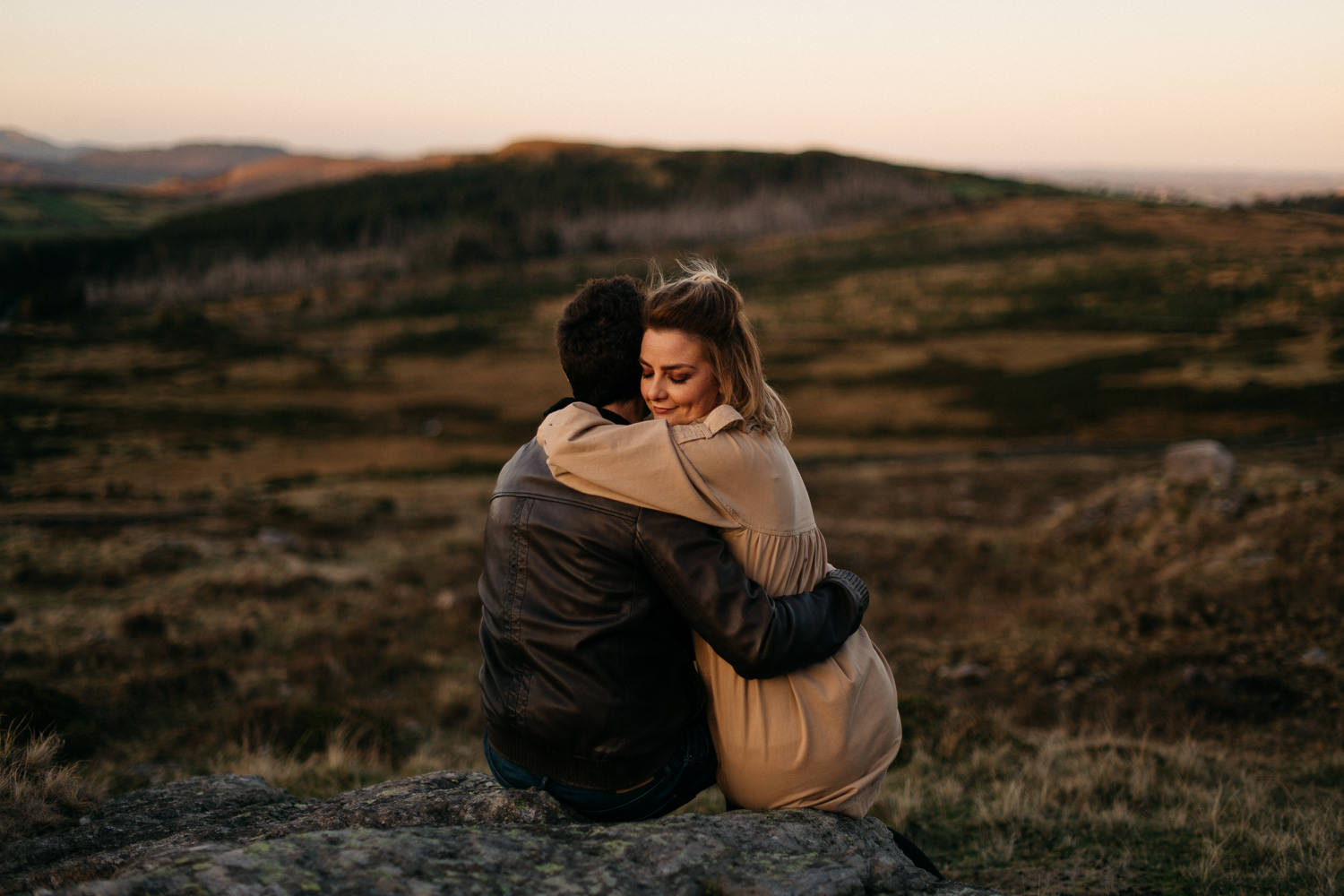 Mourne Mountains Engagement Photography
M
Mourne Mountains Engagement Photos
So where do we start with our Mourne Mountains Engagement Photography.
For all you guys that have been watching our Insta stories, checking out the behind scenes action will know that The Bears have been wild camping.
For me (not so much Ana, she prefers her spas) there is nothing more exciting than getting away from the studio and getting out and attacking the elements and exploring.
It also doubles up as scouting for new potential untapped shoot locations.
Win win.
We have been in the Mournes quite a bit.  The highest and most dramatic mountain range in Northern Ireland.
The beautiful stoned trails, forests, rivers on the way to the summits, are crowned by granite tors, moreover, we just love how the golden light falls.
We knew it would make an amazing location for some Mourne Mountains Engagement Photography.
Going on an adventure with couples telling their story with some breaking scenery is what makes our hearts flutter.
Mourne Mountains Engagement Photography
There is so many details, factors and elements that makes a shoot amazing.
Light, direction, type, backdrop, season, clothing, poses, the connection to name a few.
Something we feel is overlooked, with engagement photography is matching the right couple to the right locations.
Whether it be an urban shoot, forest, beach or the mountains we feel different couples suit different locations.
Choosing the right terrain to tell a story is such an important factor.
We had just the right couple for some Mourne Mountains Engagement Photography.
Engagement Photography Mourne Mountains
The great thing about Jen and Richard apart from being super cool, great craic, laid back and gorgeous.
Ana, knew Jen on a personal level (no pressure lol) so we were even more excited to collaborate with them.
Jen and Richard love our style and are happy to go with the flow and gave us full artist control, which we love.
With the finer details as mentioned above worked out.
We were ready to rock.
For us, its all about story telling. Letting you guys be you. Those little hugs, the laughter and those looks at each other.
Capturing you as a couple.
Most couples have never had a photo session and can be quite anxious about this and for photos on their day,
The couples session/engagement session is great for breaking the ice and finding out what shots suits you as a couple. It also gives us all a chance to get to know each other so when we do come to rock your wedding day its not two strangers, it is someone you have spent a bit of time with and are more comfortable with and most importantly things flow that little bit easier on the day.
Likewise, you don't have to be getting married.
If you think you would like a couples session get in touch here. 
Check out our Mourne Mountains Engagement Photography with this awesome couple.